The day has come — today is Ash Wednesday, and the Lenten season is officially here! If you're not familiar with Lent, you can check out my cousin's blog — she gave a brief description of it yesterday. This means, it's time for me to give something up! I am giving up desserts again, just like I did last year. So, perhaps not surprisingly, I made sure to indulge yesterday on Fat Tuesday. After all, it only comes once a year! Last year, my sister and I started a Fat Tuesday tradition of Mexican food and ice cream, and we wanted to keep up the tradition this year. Here's what my eats looked like yesterday, on Fat Tuesday: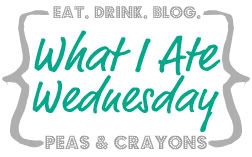 Breakfast (6:30 am)
I had to get to work earlier than usual for a meeting, so I needed to eat breakfast quickly. I had two Van's blueberry waffles, with sliced strawberries and a cup of coffee on the side.
Lunch (10:30 am)
Since I ate breakfast earlier than usual, I was actually hungry enough to eat something substantial during my lunch break. I had a spinach salad topped with baby carrots, green pepper slices, feta cheese, strawberries, walnuts, and poppy seed dressing.
Snack (12:00 pm)
A little while after lunch, my stomach started burning from the acidity of all of the vegetables (this happens pretty often– my stomach is sensitive to veggies, I guess). I knew that I needed to eat something less acidic, so I had a cup of FAGE Cherry Pomegranate Greek yogurt, which made me feel better. I think this is my favorite type of Greek yogurt — it's 0%, and still so thick and creamy!
Snack (3:00 pm)
Since I went in early for a meeting, I was able to leave work earlier than usual. My stomach was growling by the time I got home, so I had a bowl of Chocolate Mini-Wheats. This cereal is so good. I saw Kristen recommend it on another blog, and picked it up when I saw it at the grocery store. Worth every penny, and calorie.
Dinner (6:30 pm)
Like I said above, keeping up with last year's tradition, my sister, Jordan and I went to a local Mexican restaurant for dinner. I ordered bean chimichangas, which came with (more) beans and plenty of toppings, and everything was so good! It was also so much food — I ate one chimichanga and brought the other one home. I also snacked on plenty of chips, salsa and guacamole.
Dessert (8:30 pm)
I couldn't let Fat Tuesday pass me by without eating ice cream! I had a Chocolate Covered Strawberry Blizzard from Dairy Queen, and ate it at home while watching Women's College Gymnastics and 'Dance Moms.' It was the perfect way to end the night
.
Now, it's time for six weeks of no sweets. Let the sugar withdrawal begin
.
Are you giving up/working on anything for Lent?
Did you indulge on Fat Tuesday?